Lay Speaking Basic Course (Mid-State)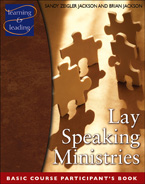 We're all called to proclaim God's wonder and works. Answering the spiritual nudges to put faith in action and represent Christ in our daily lives present unique opportunities to serve God and neighbor. As unique as you and your spiritual gifts.

The basic course for Lay Speaking Ministries guides you to discover your gifts of caring, leading and communicating and put them to use. Sessions take you through thoughtful reflection on what it takes to make a congregation an outpost for mission and transformation and the role you can play even if public speaking isn't your gift.

This course is open to all who seek to explore God's call in their lives. The course meets the requirements for (re)certification as a Local Church Lay Speaker and is required for those seeking to become Certified Lay Speakers.

Participants will be required to read and complete assignments based on the course booklet prior to the class meeting and to prepare a short meditation that will be shared in small groups the day of the class. The course will conclude with a worship service and communion.

Download and submit the registration form no later than November 17.